Salina League of Women Voters Meeting Minutes
Connect with LWV Salina:


DonateJoin/Renew NOW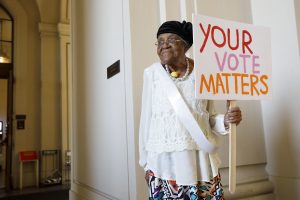 Why Vote??? Citizenship in a democracy requires it. Historical sacrifices demand it. And if you think you have reasons NOT to vote, think about THIS… 
---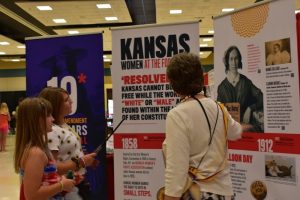 See the LWV Centennial Traveling Display
If you missed our great display celebrating the 100th anniversary of the League and the passing of the 19th Amendment giving women the right to vote, now you have another chance.  This interactive, eight panel display tells the history of suffrage in Kansas and celebrates some of the remarkable women who changed our country.  You can see it at the Kansas State Fair in Hutchinson September 10-19, or here in Salina at the Smoky Hill Museum from September 21- 28.  Check the state League of Women Voters website for more display dates throughout Kansas.
---
Kansas LWV State (Virtual) Convention Saturday April 24th Keynote Address

Listen to the wonderful keynote address by Dr. DeAngela Burns-Wallace, Kansas Secretary of Administration, on the topic of women's leadership and issues of diversity, equity, and inclusion.
---
The People Powered Fair MapsTM Campaign is a national redistricting campaign of the League of Women Voters focused on creating fair political maps nationwide. The campaign includes actions in all 50 states + D.C.  Learn more about this all important effort to preserve and strengthen our democracy. 
---
If you missed the Salina League Annual Meeting Saturday April 10th read the recap here!

---
Come Enjoy Lunch and Learn!
The public is welcome to the League of Women Voters free VIRTUAL Lunch & Learn, on the second Tuesday of the month resuming in the fall of 2021. Lunch & Learn happens three months of the fall semester and three months in the spring.  See our Calendar on the events page for dates and details. AND IF YOU MISS THE LUNCH AND LEARN SEE THE VIDEO HERE .  Also, a SPECIAL SESSION of Lunch & Learn is planned for four Fridays beginning May 14, 2021.  See the details of this important community conversation on our Calendar.
---
EVERY Saturday at Ad Astra
We have gathered at 2:00 p.m. to write postcards to our representatives. In light of the efforts to curb the effects of the COVID-19 virus we are suspending our meetings.  HOWEVER, you can and should continue to contact your representatives.  You can use our postcards or write your own letters but let your voice be heard! (We will resume meeting as soon as possible. Check our CALENDAR ) Click here if you'd like to print your own postcards.
---