Salina League of Women Voters Meeting Minutes
Connect with LWV Salina:


DonateJoin/Renew NOW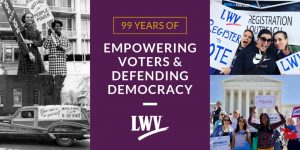 Why Vote??? Citizenship in a democracy requires it. Historical sacrifices demand it. And if you think you have reasons NOT to vote, think about THIS…
---
Salina League Annual Meeting Saturday April 10th

Guest Speaker Amanda Cebula.  The annual business meeting begins at 9:00 a.m.  Proposed budget and narrative for the coming year as well as the meeting agenda and slate of officer nominees are available here.  Amanda Cebula will speak on "Communication Across the Political Divide." As a non-partisan organization, LWV's challenge in this arena has never been greater.  At Kansas Leadership Center, Amanda works to develop partnerships with organizations and businesses seeking to apply the KLC leadership framework.  She is a Communication Studies graduate from Kansas State University, with minors in Music and Leadership Studies. She also earned a master's degree in Management & Leadership from Webster University. She speaks at 11am.
---
Come Enjoy Lunch and Learn!
The public is welcome to the League of Women Voters free VIRTUAL Lunch & Learn, on the second Tuesday of the month resuming in the fall of 2020. Lunch & Learn happens three months of the fall semester and three months in the spring.  See our Calendar on the events page for dates and details. AND IF YOU MISS THE LUNCH AND LEARN SEE THE VIDEO HERE.
---
EVERY Saturday at Ad Astra
We have gathered at 2:00 p.m. to write postcards to our representatives. In light of the efforts to curb the effects of the COVID-19 virus we are suspending our meetings.  HOWEVER, you can and should continue to contact your representatives.  You can use our postcards or write your own letters but let your voice be heard! (We will resume meeting as soon as possible. Check our CALENDAR ) Click here if you'd like to print your own postcards.
---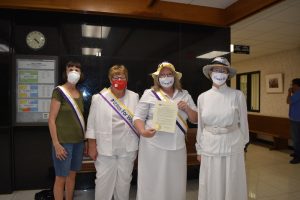 Saline County and  the City of Salina issue proclamations recognizing August 2020 as the Centennial of the 19th Amendment giving women the right to vote and the 100th anniversary of the founding of the League of Women Voters.
---
People Powered Fair Maps Campaign

The People Powered Fair MapsTM Campaign is a national redistricting campaign of the League of Women Voters focused on creating fair political maps nationwide. The campaign includes actions in all 50 states + D.C. The work will look different in each state, but the campaign is comprised of five major focus areas:  Ballot Initiatives or Referendums, State Constitutional Options, State Legislative Fixes, Federal Legislative Fixes, Civic Engagement & Education. Each state will engage in at least one of the four focus areas through advocacy, education, organizing and mobilization, partnerships, litigation, and/or protection/defensive action.