Check out some videos about voting and the league below.  More videos can be found at Salina Media Connection  and on our Lunch & Learn Video site.
2023 Girl Scout Event
League members help local girl scouts earn their democracy badges.
---
2021 State Fair Booth and Celebration of the Centennial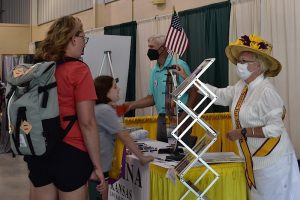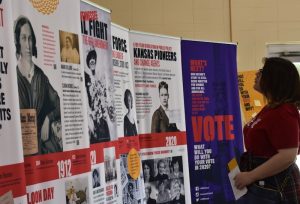 Bipartisan Women's Caucus 2017
Also, Watch the 2019 Candidates Forum sponsored by Salina League of Women Voters and Salina Chamber of Commerce.
 
Candidate Forum October 25, 2018
2018 Midterm Election Candidates, J.R. Claeys (not pictured), Gerrett Morris , Diana Dierks, and Steven Johnson answer questions at the Candidate Forum October 25, 2018. Watch the candidate forum now.
Voting Rights Discussion with Saline County Clerk 2016