One important way every citizen can become involved with democracy is to join LWV at our local events. Learn about current issues affecting our community and have the chance to meet new people, including your elected representatives at select events.
To use our calendar (at the left) click on the event and you will see all the details.
It is easy to keep up with what we are doing!

⇐ Add our event calendar to your Google Calendar (click the blue "+" symbol at the bottom of the calendar of events below). Your mobile device or the calendar on your computer will sync all events the moment we post them.
---
Join us For Lunch and Learn – 2nd Tuesday of Every Month
⇐ Check the events calendar for topics, times and locations. AND see video of our past Lunch and Learns here.
---
Subscribe to our email list and receive announcements, information about meetings and activities, help with voting issues, and more.

We take your privacy seriously and will not share your contact information with any third party. You also can unsubscribe at any time by following the instructions at the bottom of our messages.
---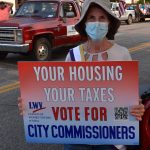 2021 Tri-Rivers Fair Parade and Booth
---