One important way every citizen can become involved with democracy is to join LWV at our local events. Learn about current issues affecting our community and have the chance to meet new people, including your elected representatives at select events.
To use our calendar (at the left) click on the event and you will see all the details.
It is easy to keep up with what we are doing!

⇐ Add our event calendar to your Google Calendar (click the blue "+" symbol at the bottom of the calendar of events below). Your mobile device or the calendar on your computer will sync all events the moment we post them.
---
Join us For Lunch and Learn – 2nd Tuesday of Every Month
⇐ Check the events calendar for topics, times and locations. AND see video of our past Lunch and Learns here.
---
Subscribe to our email list and receive announcements, information about meetings and activities, help with voting issues, and more.

We take your privacy seriously and will not share your contact information with any third party. You also can unsubscribe at any time by following the instructions at the bottom of our messages.
---
 
Candidate Forum October 25, 2018
2018 Midterm Election Candidates, J.R. Claeys (not pictured), Gerrett Morris , Diana Dierks, and Steven Johnson answer questions at the Candidate Forum October 25, 2018. Watch the candidate forum now.

---
Salina LWV Annual Meeting 2019
Members and guests met Saturday April 6 at Mokas South for their annual meeting. Kansas LWV co-president Cille King addressed the group regarding state League activities. The guest speaker, Mike Schrage, Salina City Manager, spoke about many of the current issues facing Salina including tax changes, the downtown and river renewal projects, affordable housing challenges, city budget and financing, and
the Shilling groundwater contamination issue. Read the DRAFT minutes of the annual meeting.
---
League Member, Ann Zimmerman, Presents Information Regarding Voter Registration Of Ex-Felons
During a day long Sheriff's department training on Thursday, November 2, parole and re-entry officers from Saline, Reno, Sedgwick, Wyandotte, Douglas and Shawnee Counties discussed evidence that voter registration, like work and family re-entry support, leads to lower recidivism. To hear about some of the myths and facts surrounding this important topic see the video here.
---
2018 Fall Issues Forum – Monday August 27th – Opiate Addiction – A Tidal Wave of Tragedy
Larry Black, Director of Opioid Use Disorder Grant Outreach and Admission at Central Kansas Foundation, presented an overview of the current addiction crisis in central Kansas, where we are now and where we seem to be heading.  He talked about levels of care and options available both for those who are addicted and family and friends searching for a way to help. You can still see this presentation.
---
2017 Fall Issues Forum August 28th (which marks the 98th anniversary of the League of Women Voters in the United States)
Featured Sheldon Weisgrau, the director of the Health Reform Resource Project, a foundation-funded initiative to provide education and technical assistance in the implementation of health reform and the Affordable Care Act in Kansas.
---

Candidate Forum October 17, 2017
View the Candidate Forum sponsored by the League and the Salina Chamber in two parts: School Board Candidates  or  Candidates for City Commission.
---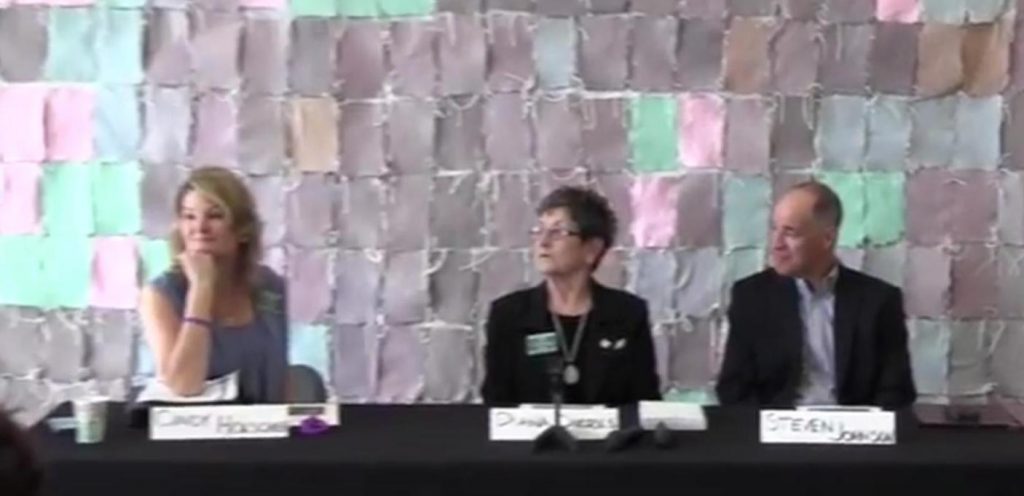 Bipartisan Women's Caucus September 16, 2017
The video of the presentation of the Bipartisan Women's Caucus is NOW VIEWABLE.  It can be seen on demand on YouTube.
---