One important way every citizen can become involved with democracy is to join LWV at our local events. Learn about current issues affecting our community and have the chance to meet new people, including your elected representatives at select events.
To use our calendar (at the left) click on the event and you will see all the details.
It is easy to keep up with what we are doing!

⇐ Add our event calendar to your Google Calendar (click the blue "+" symbol at the bottom of the calendar of events below). Your mobile device or the calendar on your computer will sync all events the moment we post them.
---
Join us For Lunch and Learn – 2nd Tuesday of Every Month
⇐ Check the events calendar for topics, times and locations. AND see video of our past Lunch and Learns here.
---
Subscribe to our email list and receive announcements, information about meetings and activities, help with voting issues, and more.

We take your privacy seriously and will not share your contact information with any third party. You also can unsubscribe at any time by following the instructions at the bottom of our messages.
---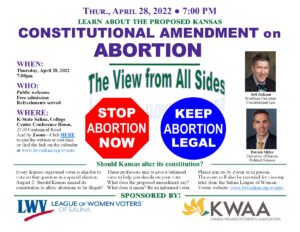 Spring Issues Forum – Panel Discussion on August Abortion Amendment   – A View From All Sides

ALL Kansas voters, REGARDLESS OF PARTY AFFILIATION, need to be prepared to vote on August 2nd on a very important question: Whether to amend our constitution so that abortion can be outlawed in the future. Jeff Jackson, Law Professor at Washburn University and Patrick Miller, KU Assistant Professor of Political Science, were the panelists discussing the proposed Constitutional Amendment that will be on the August Primary Ballot.  If you missed this important, non-partisan discussion, it is available to view here.  Co-Sponsored by the Kansas Women Attorney's Association and the League of Women Voters of Salina.  Voters do not need to be registered as Republican or Democrat to vote in this August 2nd Primary. Register now and until July 12! Read more about the amendment.
---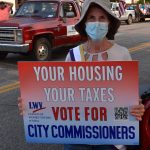 2021 Tri-Rivers Fair Parade and Booth
---
 
 
 
    

2020 General Election Candidate Forum October 22nd – Candidates for Kansas House Dist. 69 and 71

 
 
---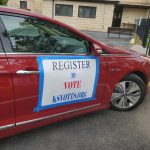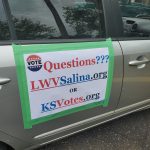 Crusing for Voters Fall 2020 Each week beginning in September 19th we met at a location in Salina to cruise the neighborhoods encouraging voters to register for the 2020 elections November 3rd. 
---
Celebrating the Centennial of the 19th Amendment: Women Vote Learning from the Past, Imagining the Future
More than 50 people came out on August 22, 2020 to Salina's kickoff event celebrating the 100th anniversary of the founding of the League and the signing into law the 19th Amendment. Some walked the length of the town, 10 miles from Schilling Elementary school to Thomas Park, some rode bicycles handing out voter information, some cruised the neighborhoods in cars decorated to encourage voting, and all met at Thomas Park for a talk by "Alice Paul, Suffragette", actually actress Irene Nielsen.
---
League Member, Ann Zimmerman, Presents Information Regarding Voter Registration Of Ex-Felons
During a day long Sheriff's department training on Thursday, November 2, parole and re-entry officers from Saline, Reno, Sedgwick, Wyandotte, Douglas and Shawnee Counties discussed evidence that voter registration, like work and family re-entry support, leads to lower recidivism. To hear about some of the myths and facts surrounding this important topic see the video here.
---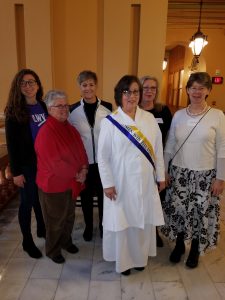 Women Power the Vote Day of Action in Topeka
4 members of the Salina League joined state and national League members at the State Capitol in Topeka February 13th to hear speakers, meet with legislators, and kick off a special year of celebrating the 100th anniversary of the LWV and the passing of the 19th amendment. Watch as the League is honored in a special ceremony in both the House and Senate chambers.
---