Sorry, What you were looking for is not here.
Connect with LWV Salina:


DonateJoin/Renew NOW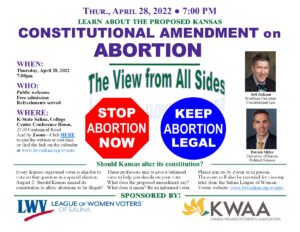 Spring Issues Forum – Kansas Constitutional Amendment on Abortion – A View from All Sides

---
Spring Issues Forum – Panel Discussion on August Abortion Amendment   – A View From All Sides

ALL Kansas voters, REGARDLESS OF PARTY AFFILIATION, need to be prepared to vote on August 2nd on a very important question: Whether to amend our constitution so that abortion can be outlawed in the future. Jeff Jackson, Law Professor at Washburn University and Patrick Miller, KU Assistant Professor of Political Science, were the panelists discussing the proposed Constitutional Amendment that will be on the August Primary Ballot.  If you missed this important, non-partisan discussion, it is available to listen to here. (apologies but the video portion is intermittent)  Co-Sponsored by the Kansas Women Attorney's Association and the League of Women Voters of Salina.  Voters do not need to be registered as Republican or Democrat to vote in this August 2nd Primary. Register now and until July 12! Read more about the amendment.

---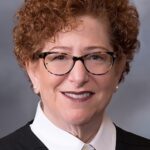 Salina LWV Annual Meeting starts with Kansas Supreme Court Justice Standridge speaking on "Fair & Impartial Courts" Hear her talk NOW! (HERE)
---
The Kansas No Right to Abortion in Constitution Amendment will appear on the ballot in Kansas as a legislatively referred constitutional amendment on August 2, 2022. 
  Because this is a special election, not a part of the primary voting, all registered voters may vote on this question even if they are not affiliated with a political party.  For more information on the LWV position read about actions around the country.
---
Come Enjoy Lunch and Learn!
The public is welcome to the League of Women Voters free VIRTUAL Lunch & Learn, on the second Tuesday of the month on Zoom OR in person. Lunch & Learn happens three months of the fall semester and three months in the spring.  See our Calendar on the events page for dates and details. AND IF YOU MISS THE LUNCH AND LEARN SEE THE VIDEO HERE . 
---
EVERY Saturday at Ad Astra
We're back! Saturday Postcard writing starts again on Sat. Nov. 27. 2:00 p.m., Ad Astra Books & Coffee, 141 N. Santa Fe. Come let your elected officials know what's important to you. We hope that 11am is a convenient time for more members.  Let your voice be heard!  Click here if you'd like to print your own postcards at home.