Empowering Voters. Defending Democracy.
The League of Women Voters is a non-partisan, nonprofit political organization encouraging informed and active participation in government. It influences public policy through education and advocacy.
---
What does the League do?
We educate citizens about issues, legislation and candidates.
We encourage individual participation in the political process.
We inform through in-depth, objective study.
We monitor local, state and national government bodies and activities.
We register voters.
We sponsor candidate debates and public issue forums.
---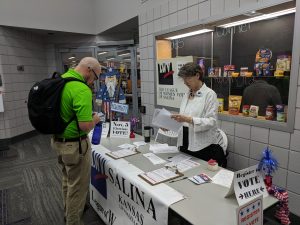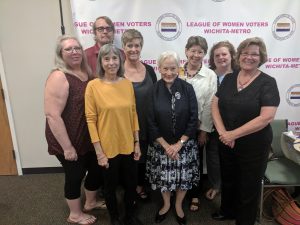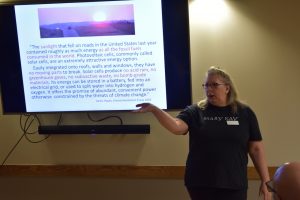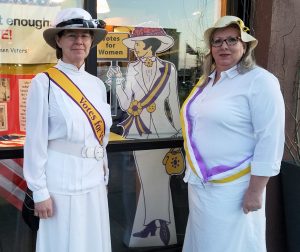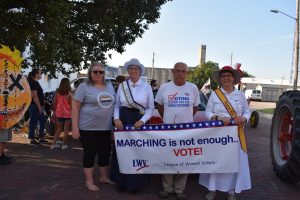 See a full list and explanation of all the current issues, positions, and advocacy work of the national League of Women Voters.  LWV Kansas positions can be found here.
---
 

To register to vote go to www.KSVotes.org or Vote411

To get a free Kansas photo ID, go to www.gotvoterid.com

To find your polling place, your districts and your voting history, go to Vote411

To find out about your candidates see our page "About Your Candidates" or Vote411.

Documentary proof of citizenship is NOT required when registering to vote, per the Federal District Court ruling on June 18, 2018, by Judge Julie Robinson declaring the Kansas Documentary Proof of Citizenship law violated the National Voter Registration Act and the U.S. Constitution.
---
Keep up to date on our Kansas Legislature with LWVK Legislative Liaison, Paul Johnson's,  Policy Watch.
---
Celebrating the Centennial of the 19th Amendment – Women Vote
The League of Women Voters of the United States (LWVUS) grew out of the long struggle to achieve the vote for women. The 19th Amendment to the U.S. Constitution, which granted women in the United States the right to vote, was ratified on August 18, 1920, ending almost a century of protest nationally.  In response to the 19th Amendment, members of the National American Women's Suffrage Association formed a new organization: a national League of Women Voters. Jane Brooks, Wichita, president of the Kansas Equal Suffrage Association, was the first permanent national LWV chair. She returned from the national suffrage convention to start the first local League in the nation in Wichita. See plans for our year long celebration.
---
Encourage your Senators to pass HR 1 – the For the People Act of 2019 (Passed to the Senate 3-11-2021)

This bill addresses voter access, election integrity, election security, political spending, and ethics for the three branches of government. Read the details of this important legislation then call your Senators. 
---
---