Empowering Voters. Defending Democracy.
The League of Women Voters is a non-partisan, nonprofit political organization encouraging informed and active participation in government. It influences public policy through education and advocacy.
---
What does the League do?
We educate citizens about issues, legislation and candidates.
We encourage individual participation in the political process.
We inform through in-depth, objective study.
We monitor local, state and national government bodies and activities.
We register voters.
We sponsor candidate debates and public issue forums.
---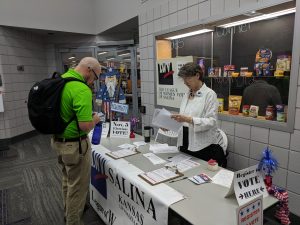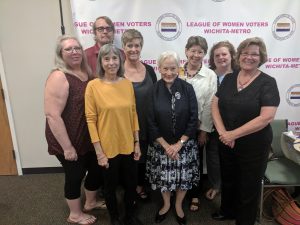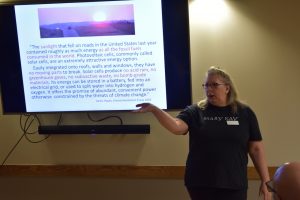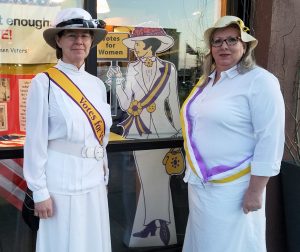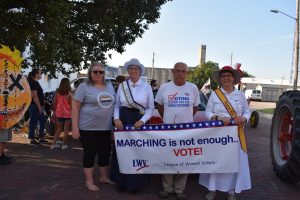 See a full list and explanation of all the current issues, positions, and advocacy work of the national League of Women Voters.  LWV Kansas positions can be found here.
---
Keep up to date on our Kansas Legislature with LWVK Legislative Liaison, Paul Johnson's,  Policy Watch.
---
Spring Issues Forum – Panel Discussion on August Abortion Amendment   – A View From All Sides

ALL Kansas voters, REGARDLESS OF PARTY AFFILIATION, need to be prepared to vote on August 2nd on a very important question: Whether to amend our constitution so that abortion can be outlawed in the future. Jeff Jackson, Law Professor at Washburn University and Patrick Miller, KU Assistant Professor of Political Science, were the panelists discussing the proposed Constitutional Amendment that will be on the August Primary Ballot.  If you missed this important, non-partisan discussion, it is available to listen to here. (apologies but the video portion is intermittent).  Co-Sponsored by the Kansas Women Attorney's Association and the League of Women Voters of Salina.  Voters do not need to be registered as Republican or Democrat to vote in this August 2nd Primary. Register now and until July 12!  Read more about the amendment.

---
The League's Position on Reproductive Rights

Statement of Position on Public Policy on Reproductive Rights,as announced by the National Board, January 1983: The League of Women Voters of the United States believes that public policy in a pluralistic society must affirm the constitutional right of privacy of the individual to make reproductive choices. For a full history on this policy position.see page 56.

---
 

To register to vote go to www.KSVotes.org or Vote411
To get a free Kansas photo ID, go to www.gotvoterid.com
To find your polling place, your districts and your voting history, go to Vote411
To find out about your candidates see our page "About Your Candidates" or Vote411.
Documentary proof of citizenship is NOT required when registering to vote, per the Federal District Court ruling on June 18, 2018, by Judge Julie Robinson declaring the Kansas Documentary Proof of Citizenship law violated the National Voter Registration Act and the U.S. Constitution.