Our LOCAL newsletter, The VOTER, provides information on League programs and events.  We are in need of an editor in 2020.  If you are interested, please contact us for more information.
ALSO VISIT THE KANSAS LEAGUE'S WEBSITE TO SEE THE CURRENT EDITION OF THE STATE of KANSAS LWV NEWSLETTER "VOTER Notes"
View the July 2019 issue of "The VOTER," produced by LWV of Salina.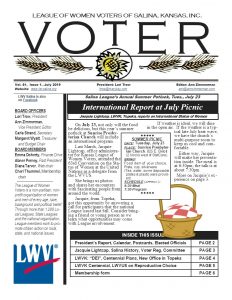 In this issue:
Put the Summer Picnic and our VERY Special Guest on your calendar.
Read more details about the 100th Anniversary Celebration of Women's Suffrage starting this summer.
Find out Sufferage in a Salina Journal article from 1894.
Learn how you can link to the Diverse, Equitable, & Inclusive webinars of the LWVUS
Looking for past issues of our newsletter? Please check the LWV Salina newsletter archive.
Suggestions or feedback on our newsletter? Please send your email to our newsletter editor.
---
ALSO VISIT THE KANSAS LEAGUE'S WEBSITE TO SEE THE CURRENT EDITION OF THE STATE of KANSAS LWV NEWSLETTER "VOTER Notes"