Why Vote: What do you care about?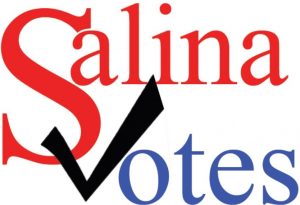 Public schools? Safe use of firearms? Effective Policing? Equitable taxation? Good jobs? Affordable health care for everyone?
The leaders you elect make decisions that affect you and the issues you care about. Voting is your chance to choose the decision makers and tell them what you want.
Democracy is not a spectator sport. YOUR vote matters!
---
What is Salina Votes?
Salina Votes is a collaboration for the 2020 electoral season between Salina League of Women Voters, NAACP of Salina, and the UU Fellowship of Salina. Together we will get out the vote! Funded in part by the Greater Salina Community Foundation and the Fund for Unitarian Universalist Social Responsibility.
We need YOU to become an ambassador and join us! We'll train two or three people from your group, civic organization, church, workplace, or any other 'mini-community' to register voters. These individuals will then return to your group and help register people register to vote.
In addition, we'll come to your group and give a motivational talk, set up a voter registration table and/or train you all together.
We have information on voter registration, advance vote by mail, candidates and ballot initiatives, locations of polling places, and much more. We can answer your questions, provide helpful tools, and make voting easy.
We'll be out canvassing the town, too, and would be excited to have you join our efforts. We can come to you or you can sign up to get updates about upcoming training sessions. Contact us at 785-515-8721 or salinavotes@lwvsalina.org.
---
Here are actions you can take right now
---
About Advance Ballot Process:
To vote by mail, please follow these instructions:
Complete the application for an advance ballot.

Provide your driver's license number on the ballot application. If you don't have a driver's license, provide a copy of your photo ID with your application.

Return the application to your county election office before the registration deadline of the next election.

The ballot will be mailed to you. Complete and return your ballot in person to your county election office, or your polling place, or by mailing it by the close of polls on Election Day.
You may request assistance in applying for and casting an advance voting ballot.
Advance ballots are mailed out beginning 20 days before the election, and up until four days before Election Day. Make sure you apply for an advance ballot well before the deadline to receive your ballot in the mail.