Our newsletter, The VOTER, provides information on League programs and events.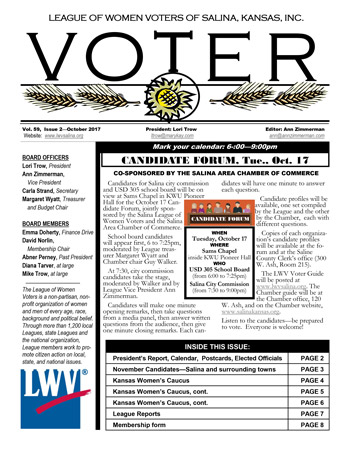 View the October 2017 issue of "The VOTER," produced by LWV of Salina.
In this issue:
Candidate forum Oct. 17
President's Report
As local elections approach, Lori Trow emphasizes the need to stay vigilant with registering people to vote and providing relevant information to the voting public.
About the candidates running for office across Saline County.
Kansas Women's Caucus Report
A "giant math problem" describes the bargaining over the Kansas budget late in the 2017 legislative session.
What's coming up?
Lunch & Learn Oct. 10: Jamie Allen, Saline county clerk and election officer, will demonstrate the county's new voting machines, discuss voter registration, and talk about the voter "suspense list."Lunch & Learn Nov. 14: Jerry Gillespie, LaNay Meier, and Diana Smith will talk about the "Reaching Out from Within" program at Ellsworth Correctional facility. This therapy-based prisoner rehabilitation program works with inmates to transform their lives.

2017 League Day: Join LWV Kansas October 21 in Leavenworth for the annual gathering of the nine local Leagues in our state. Get the early scoop on legislative priorities and swap ideas among local Leagues.

Event recaps
Looking for past issues of our newsletter? Please check the LWV Salina newsletter archive.
Suggestions or feedback on our newsletter? Please send your email to our newsletter editor.