Our newsletter, The VOTER, provides information on League programs and events.
View the January 2018 issue of "The VOTER,"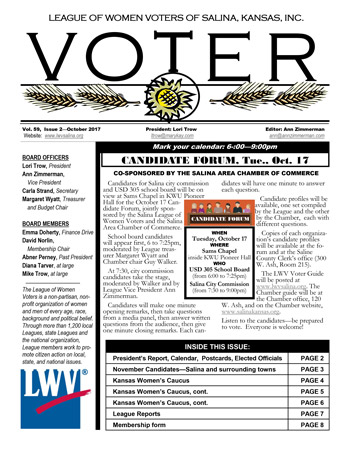 produced by LWV of Salina.
In this issue:
Paul Johnson's report on the Governor's State of the State and his new budget proposal.
President Lori Trow's Report – a look back at 2017 and questions for our future.
A recap of the last three Lunch & Learns – you can read about our guests and the topics or watch the videos of the complete presentations.
What's coming up?
February and March Lunch & Learn presentations include Ecospheric Studies and Agricultural Burning. And don't miss Salina's Annual Meeting and the LWV State Council meeting in Great Bend.  See our calendar of events for more details.
A look forward to the 2020 birthday celebration (100 years!) of the League of Women Voters and the 19th Amendment.
Looking for past issues of our newsletter? Please check the LWV Salina newsletter archive.
Suggestions or feedback on our newsletter? Please send your email to our newsletter editor.
---
ALSO VISIT THE KANSAS LEAGUE'S WEBSITE TO SEE THE CURRENT EDITION OF THE STATE of KANSAS LWV NEWSLETTER "VOTER Notes"