Our newsletter, The VOTER, provides information on League programs and events.
View the October 2018 issue of "The VOTER," produced by LWV of Salina.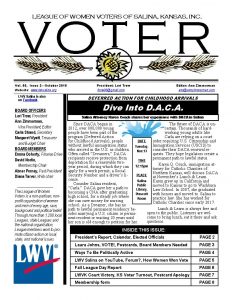 In this issue:
Learn ways you too can be politically active.
Read about Fall League Day and recent efforts to hold a candidate forum this month.
Find out about Laura Mitchell Johns, early Salina suffragist.
See what's coming up including the November Lunch and Learn, Dive into D.A.C.A. Looking for past issues of our newsletter? Please check the LWV Salina newsletter archive.
Suggestions or feedback on our newsletter? Please send your email to our newsletter editor.
---
ALSO VISIT THE KANSAS LEAGUE'S WEBSITE TO SEE THE CURRENT EDITION OF THE STATE of KANSAS LWV NEWSLETTER "VOTER Notes"